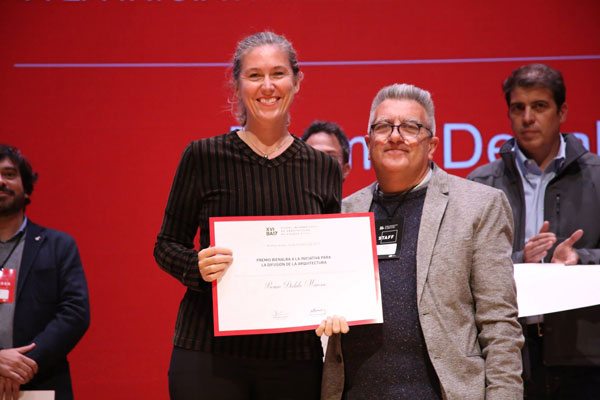 The Dedalo Minosse Prize awarded at Bienal de Arquitectura de Buenos Aires

The Bienal International de Arquitectura de Buenos Aires is one of the most important events in Argentina and in the world for architectural culture. It takes place in the spaces of the Usina del Arte, a historic power station recently recovered as an exhibition and congress center. All the projects of the winners of the Prize, which had previously been presented in the Palazzo Chiericati in Vicenza, can be admired until 20 October.

On October 13 Marcella Gabbiani presented the Dedalo Minosse in front of an audience of more than 400 people, including internationally renowned architects and enthusiasts. The two winners of the Prize were there: Philippe Prost, architect of "The ring of remembrance", an international memorial on the hill of Notre-Dame-de-Lorette, celebrating the centenary of the First World War, commissioned by the Hauts de France, and Luis Arturo Garcia, architect under 40, who with the Mexican "Casa Meztitla" commissioned by Lilia Bazàn, has created a clever combination of architecture and landscape.

During the conference, the Bienal International de Arquitectura awarded the Dedalo Minosse Prize with an important recognition for the promotion of architecture, with a surprise ceremony that saw the delivery of the certificate directly to the Director of the Prize Marcella Gabbiani.