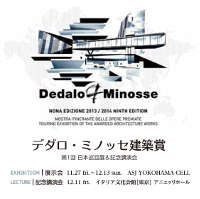 Dedalo Minosse Prize flies to Japan: exhibition and seminar

The International Prize Dedalo Minosse flies to Tokyo thanks to the collaboration with ASJ (Architects Studio Japan). The exhibition of awarded architecture works of the 9th edition will take place at the ASJ YOKOHAMA CELL from the 27th of November to the 13th of December 2015.
During the Dedalo Minosse's exhibition, on the 11th of December at 6.30 pm, the Italian Institute of Culture in Tokyo hosts a conference to discuss about contemporary architecture in Japan and beyond it. Among the speakers, Domenico Giorgi, director of the Italian Institute of Culture and Italian Ambassador in Japan, Marcella Gabbiani, director of Dedalo Minosse Prize, Maruyama from Architects Studio Japan, and some architects who were awarded the Dedalo Minosse Prize in the past editions, such as Keisuke Maeda, Satoshi Okada and Katsufumi Kubota.