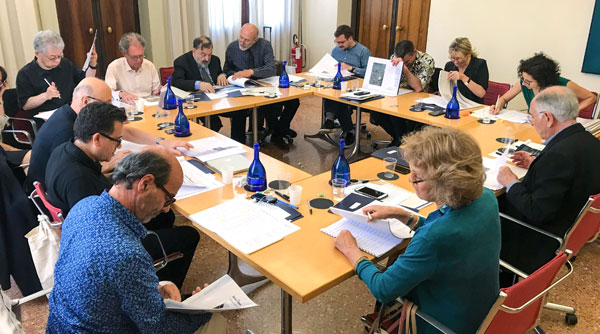 Meeting of International and inter-disciplinary Jury of the Dedalo Minosse's Eleventh Edition

Jury's meeting of Dedalo Minosse's eleventh edition was on June 14th, 2019. The reunion was at the Palazzo Bonin Longare, hosted by Confindustria Vicenza, where the Jury assigned prizes to the clients, which trough their realizations invested, renovated and improved the quality of life, not only of their project but also in the community.

Cesare Casati - Editor-in-chief, l'ARCA INTERNATIONAL
Richard Haslam - Architectural historian
Roberto Tretti - National Vice-president of ALA - Assoarchitetti
Marcella Gabbiani - Director of Dedalo Minosse Prize
Bruno Gabbiani - President of ALA - Assoarchitetti
Philippe Prost - Architect of heritage and urbanist, president of Avenir & Patrimoine, winner of Dedalo Minosse International Prize X edition
Paolo Caoduro - Main sponsor of the Prize
Marco Sammicheli - International Relations Chief Officer of Triennale di Milano
Katsufumi Kubota - Architect
Dan Pitera - Dean of the school of Architecture at the University of Detroit Mercy
Fortunato D'Amico - Professor at the Politecnico di Milano, writer and essayist, artistic researcher
Veronica Marzotto - Businesswoman and client

The Awards ceremony will be held on September 21st, 2019 at the Teatro Olimpico in Vicenza, where Dedalo Minosse eleventh edition's winners will be given recognition.