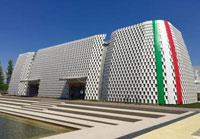 Dedalo Minosse Prize experience at EXPO Milano, July 30 2015

Intesa San Paolo's Pavilion at Milano EXPO hosts the Dedalo Minosse Prize and the successful stories that characterized this event in nearly 20 years.
Bruno Gabbiani, President of ALA, will also present the winners' projects of the ninth edition.
The event, scheduled for Thursday 30 July, has been made possible thanks to Fiandre and F.lli Moncini that realized part of the pavilion structure.